Perspex®

Perspex® sheet is an internationally renowned brand of acrylic which is recognised for its quality and extensive product range.

PERSPEX® Clear acrylic sheet comes with a 30 YEAR WARRANTY and 10 years on colours and P&M Plastics is the authorized reseller of Perspex® acrylic sheet in Queensland.

P&M Plastics will be stocking the full colour range of Perspex® Fluorescent and Perspex® Pearlescent.
Perspex® is a trademark first registered in 1934. Its first application was for the Spitfire (fighter plane) panel canopies. Today the Perspex® brand stands for the ultimate in innovation and quality in acrylic.
Perspex® acrylic brand has always been at the forefront of innovative design-with each decade in its development demonstrating a further step in making Perspex® acrylic what it is today. An extensive range of sheet sizes and thicknesses and an increased choice of colours, tints, surface textures and special effect products meant that Perspex® acrylic was ideally suited to take a place in the emerging global branding and corporate imaging culture that was a feature of the 80's and increasingly dominates today's global environment.
See the difference
When it comes to acrylic in the corporate signage and imaging sector, Perspex® brand acrylic has been first choice among leading brands for many years.
Perspex® acrylic can be colour-matched to any conceivable shade, perform exceptionally well in all weather conditions and have excellent light transmission qualities.
These performance factors make Perspex® acrylic the preferred choice for multi-national brands that want to project their corporate and brand identities precisely and consistently across regions over a long period of time.


Below we have a divider room made using Perspex® Frost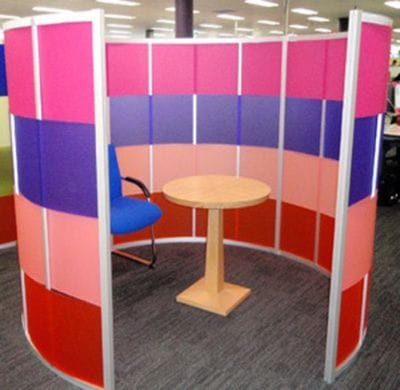 BROCHURE