Foamed Rubber
Formshield
Crosslinked - Closed Cell - Polyethylene Foam - heat laminated to
reinforced 9um Aluminium Foil Facing.
Product Benefits
Thermal Conductivity - Effective insulation against heat transfer, with a very low K value of 0.032 w/mK @ 20ºC Fire Hazard Rating - Meets the requirements of AS15530.3 for the Building Code of Australia Acoustical Properties - Reduces the transmission of noise and vibration Moisture Barrier - Closed cell structure is impervious to water and becomes the barrier in application Product Resistance - High resistance to detergents, dilute acids and alkalis, alcohols, ketones, exters and fungi Temperature Range - has a wide range of performance from -80ºC to 100ºC.
Compression Effect - Crosslinked foam results in a light but very strong material that prevents deformation around duct corners and pin mountings ensuring consistent insulation performance.

Advantage to Applicators
No Health Hazards - Does not emit dust or fibre particles Safe to Handle - Non-irritant with no special clothing requirements such as gloves or face masks Easy to Install - Light, flexible and easily cut and fabricated on site with a sharp knife Damage Resistant - Can be easily transported without costly damage problems.
Optional Adhesive - Can be supplied with acrylic adhesive for quicker installation.

Advantage to End Users
Energy Saving - An excellent thermal product reducing costs on both heating and cooling Noise Reducing - Reduces and deadens transmission of airborne and structural noise Health & Safety - Does not store or emit dust or fibre particles.
Protective Transport - Cannot be easily torn and provide excellent impact resistance.

Estimated Measure of Heat Flow Reduction (U)
FormShield achieves an excellent insulation against heat loss from its low thermal conductivity and its crosslinked cellular structure As an example, 10mm thick FormShield is a very cost effective product providing 90% heat flow reduction The 'Law of Diminishing Returns' as illustrated in the graph shows that an increase from 10-25mm FormShield provides only an additional 5% of insulation performance.
Further thicknesses produce only a negligible increase in performance.

Heat Flow Reduction

Suggested Application Method
Wrap FormShield around the duct work surface as tightly as possible Fasten in position with fixing pins at 400mm maximum centres. Ensure the FormShield is installed butt-jointed or overlapped Fabricate material to fit with a sharp knife All edges and joints should be sealed with a 75mm reinforced aluminium foil adhesive tape The figures and specifications within this literature are not standard but merely representative values from tests Ks3014, ASTM C-51, D3575, JISK6767, JIS-A1405 and AS1530.3-1989. The seller makes no warranties or recommendations as to the use of FormShield fora particular purpose
Further data contained within are typical laboratory results only and do not represent a guarantee of performance in any application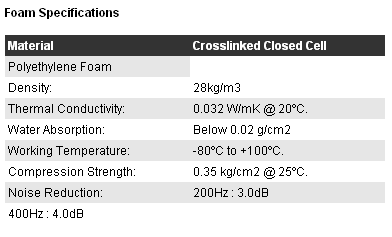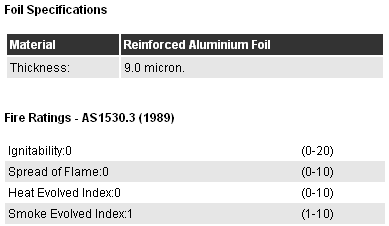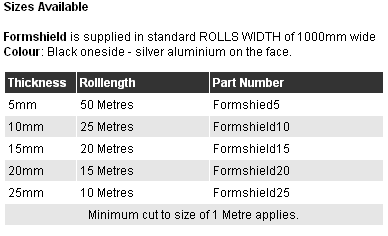 Self Adhesive Foam Tapes
Black Closed Cell, PVC / Nitrite Rubber Sealant, Tape
Available in a medium / soft grade 4900
Available in a medium / firm grade 4700
Good resistance to weathering, ageing, UV light, fungi, and most chemicals.

Typical Applications
Automotive gaskets & seals, refrigeration, air-conditioning, buses & off-road vehicles, marine construction (hatches), truck cabs & body seals and general closure applications.

Application Guide
Surfaces should be clean before application.
Avoid touching adhesive surface before application.
Lincoln Sentry Industrial Products recommends pre-testing of this product prior to commercial application.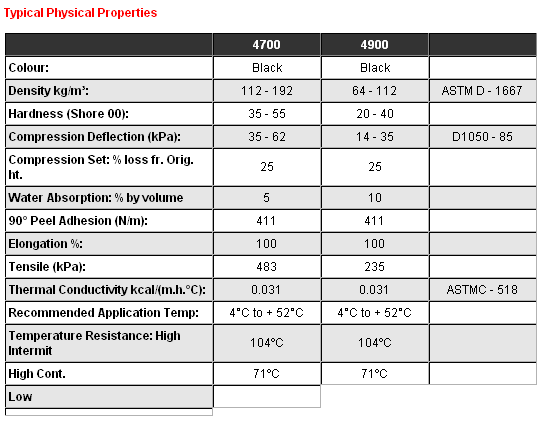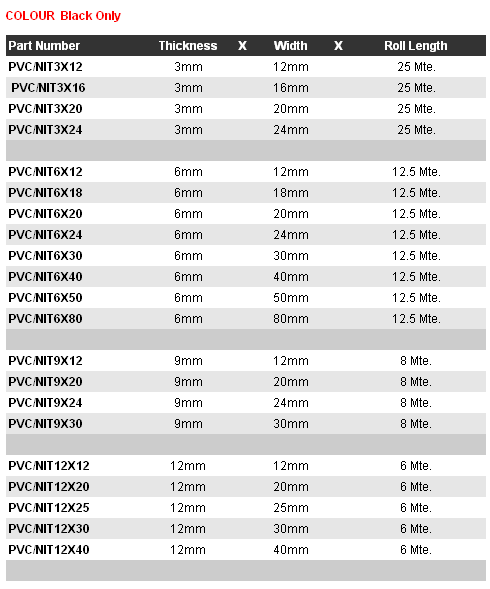 Available in ROLL or "Cut To Size"
- Any of the above sizes can be cut to length
- MINIMUM of 1.0 Mte.