Perspex® Impressions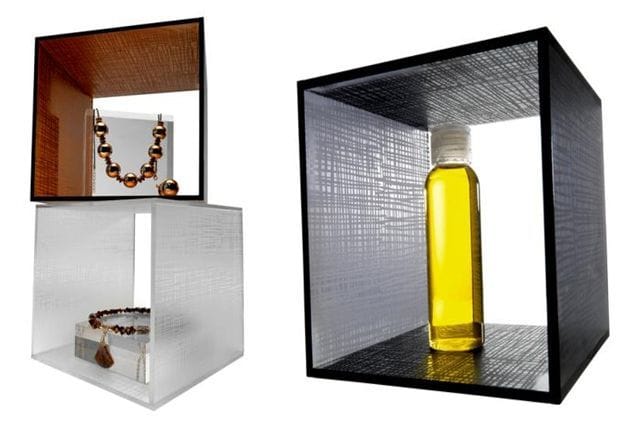 Perspex® Impressions is an exciting new range of Perspex® acrylic sheet which offers an extra dimension texture. Inspired by the emerging trend for greater depth and texture in materials, Perspex® Impressions will appeal to designers, architects, brands, retailers and shop fitters, who are looking for a material with the potential to create a truly unique look and feel.
Perspex® Impressions offers;
A new look and feel to Perspex® acrylic sheet
Pattern and texture inherent in the sheet
A contemporary elegant 'Linear' design pattern specially commissioned and registered.
A selection of brand new colours to choose from
Bespoke versatility Ability to be cut, shaped, polished, and fabricated, whilst maintaining the design pattern.

Unique texture
The Perspex® Impressions Linear design features long, irregular vertical lines interwoven at right angles with horizontal lines to form a unique and subtle texture. It adds a textured depth and intensity to a range of retail interiors applications including POS, shop fitting and interior design that make a real and lasting impression. Understated with an informal elegance, it is ideal for complementing and highlighting a wide range of display merchandise. With both design and texture inherent in the sheet, Perspex® Impressions offers great resilience and resistance to wear. The pattern will not be rubbed or scratched off, and cannot be delaminated, making it a great choice for the challenges of a busy retail environment.


Impessions range
Perspex® IMPRESSIONS Linear standard range is available in 3050 x 2030mm size sheets in 3mm thickness in the following colours;
Colour Product Code
Clear P1 000*
Opal P1 030*
Red P1 4T1B
Brown P1 5T23
Glass Look P1 6T21
Green P1 6T5C
Purple P1 8T23
Grey P1 9T1D*
Black P1 9221*

*Stock, other colours and thickness available on application
Brochures
Perspex® Impressions Data Sheet Perspex® Impressions Linear Brochure